Rivers & Streams
It may not rival TV's Bassmasters, but Los Angeles is about to get a small taste of fishing glory.
This Saturday, advocacy group Friends of the L.A. River will host the river's first-ever fishing competition. Anglers will test their skills at traditional and fly fishing at 9 a.m. before handing things over for a family fishing session at 10 a.m. Rods and reels will be provided. All fish will be released, but not before conservation biologist Rosi Dagit categorizes, weighs and measures each one.
"I have no idea what these folks are going to pull out," said Dagit, who works for the Resource Conservation District of the Santa Monica Mountains. "Not much biological study has been done since the river was concrete-lined."
The competition offers a chance to expand on a 2008 study that took the first look at the river's aquatic life in decades, Dagit said. She expects to see species including carp, tilapia, black bullhead catfish and largemouth bass. Almost all are invasive, she said—native trout living upstream in tributaries haven't been found in the waterway since the 1940s.
Fishing in the river was prohibited before 2011, when changes in state law opened up the activity to people with a fishing license. Saturday, however, is a "free fishing day"—meaning no license will be required to fish.
Jim Burns, a local fisherman who runs an L.A. River fly fishing blog, remembers being chased out by law enforcement when he first started dropping his lines. He said things have come a long way in the past four years. "When I started, it took me like an hour to actually find the river and find a way to get access to it," Burns said.
These days, Burns sees more fish and more people. Plastic bag bans and cleanup efforts have made the water cleaner, and that's been good for all species. He's recently found reptiles, crayfish and plenty of fish, including an increasing number of white-sided bass, the exact identity of which remain a mystery to him.
That's where Dagit comes in. As the river's health continues to improve, she said there's a good chance that what's hooked Saturday will be different from what she found in 2008.
"It's an enormous watershed and it has the potential to support a large population of all kinds of native fishes if we clean up things, restore banks and improve water quality," Dagit said. "Fish are a touchstone to see how we are doing. They need cool, clean, oxygenated water. We've done a masterful job, but we've got a long way to go."
More than anything, Dagit and Burns hope the competition gets people out to enjoy the river with their families. That, they said, is critical to the waterway's future.
"People take care of things that they love, and they tend to love places that are special to them for one reason or another," Dagit said. "It doesn't get much more special than catching a fish with your kid on a Saturday morning in a beautiful place on the river."
To join the fun, head to North Atwater Park, 3900 West Chevy Chase Drive, at 8:30 a.m. this Saturday, September 6.
Most Angelenos know that the Los Angeles River is making a comeback. Still, the hipsters hawking free breakfast on its banks were a surprise.
Waving their arms and proffering scrambled egg sandwiches and muffins they'd cooked on a camp stove, the group of about a dozen young people were on the bike path near Rattlesnake Park on Saturday morning, flagging down cyclists for no apparent reason beyond community building.
"They said they had done it before, and had just decided to do it again," said one passing cyclist, a 24-year-old from Eagle Rock who's been riding along the river near Griffith Park for years. "It seemed like they were just, like, 'Let's just get together and do something nice.'"
Gathering at the river to do something nice has become a trend this summer, as momentum has built around the restoration and revitalization of L.A.'s long-suffering namesake waterway.
With scores of projects already complete and a $1 billion Army Corps of Engineers plan expected to dramatically improve an 11-mile stretch between downtown and Griffith Park, a nascent but notable scene has taken hold along the once-maligned L.A. River, particularly where it has been spruced up with pocket parks, hiking trails and bikeways.
This summer, for instance, kayaking tours are being offered in public recreation areas in the Sepulveda Basin and in Elysian Valley; later this month, about 100 stand-up-paddlers and rowers will gather in the Glendale Narrows for a first-ever L.A. River Boat Race.
The Los Angeles River Corp. is offering outdoor bike-in movies along the riverbanks later this month and has its second annual Greenway 2020 10k race scheduled for early November. Meanwhile, the Elysian Valley Arts Collective will host its annual Frogtown Art Walk again next month by the river. Nearby, Elysian, an underground restaurant that materialized two years ago on the river near Atwater Village, will be up and running, legally and officially.
Elysian is also the home of Clockshop, a non-profit arts and cultural organization, and the site for more than a few weddings during the past year. And speaking of art, be on the lookout for the L.A. Mud People, a performance art group that frequents the river both as a medium and a backdrop.
"It's really kind of miraculous," marveled Lewis MacAdams, president of Friends of the L.A. River, which has itself drawn thousands of passersby over the past six weeks by staging free weekend concerts at The Frog Spot, an informal venue it set up this summer on Benedict Street along the Elysian Valley bike path.
"We've been surprised at how many people have showed up—probably 500 or so every Saturday and Sunday," said MacAdams, adding that FOLAR will also be sponsoring a catch-and-release fishing event next month. "People are getting interested, and looking for community."
MacAdams sees the interest as an outgrowth of the long political fight to restore the river, which was paved in the 1930s in an attempt to tame periodic but lethal floods. Nearly 4,000 people participated this year in FOLAR's long-running annual river cleanup, he said—a record turnout—and each cleanup has helped spread the news of the river's revitalization and potential.
So far, MacAdams said, most of the community activities have centered around FOLAR and the Elysian Valley arts community near Frogtown.  "But a lot of it also is the bicycle population," he said. "There are more bicyclists than we imagined, and they keep coming back."
Julia Meltzer, executive director of Clockshop and the wife of David Thorne, who runs Elysian restaurant, agreed that the riverfront has become exponentially more active.
"There's a lot more recreation and sporting," she said, acknowledging that the various improvements, from friendlier landscaping to paved bikeways, have created occasional conflicts among walkers, cyclists, locals and other constituencies.
Nonetheless, a first-ever, free community campout along the river that Meltzer said she helped organize over Memorial Day weekend—along with California State Parks, the Mountains Recreation and Conservation Authority, the Natural History Museum and others—was fully booked within an hour of its announcement.
"I think it's the big buzz, and the opportunity to come down to the river's edge legally now," said MRCA Chief Ranger Fernando Gomez, adding that some 200 campers showed up on Memorial Day and that hundreds more have shown up this summer for MRCA river programs, ranging from free community paddles to evening weenie roasts in Marsh Park.
"It used to be that people weren't allowed in the river without a special use permit—it wasn't meant for recreation," Gomez said. "People would look at the river and think it was disgusting.
"But now, they can go down in, say, a kayak, and they see that the water is actually pretty clean, and there's a heron right over there taking off with a fish in its mouth. They see that it's not just all about concrete anymore," Gomez said. "It's a river—a real live river—now and people want to be part of it."
Posted 8/6/14
Louisiana red swamp crayfish may be a delicacy in the gumbo pot, but these voracious Cajun imports are an unwelcome ingredient in Topanga Creek, where they cloud the water and chow down on native fish, bugs and amphibians.
They've been in residence since 2001, when a local resident is said to have dumped a batch of live crayfish into the creek in hopes of cultivating a perennial free bait supply. Since then, there have been intermittent community clean-ups, and those efforts—coupled with winter storms that traditionally have washed many of the crustaceans out to sea—were usually enough to keep the population in check. But a lack of significant rainstorms since March 2011 has spawned a crayfish baby boom.
"We've had perfect growing conditions for crayfish. The water is slow-moving. It's warm. And they have gone berserk," says Rosi Dagit, a senior conservation biologist with the Resource Conservation District of the Santa Monica Mountains. "They're a very intense predator…It's kind of gotten out of control."
That's bad news for the health of the creek and also for creatures like the California newt, a snack of choice for hungry crayfish.
"One day we literally witnessed a newt in the hands of five crayfish," says Lizzy Montgomery, 25, a Watershed Stewards Project intern working at the site. Montgomery and her fellow intern, 24-year-old Crystal Garcia, are in the midst of a crayfish research and removal plan now underway at the creek.
They rescued the newt, but the sight of the near-carnage was enough to help Montgomery get over her qualms about dispatching the crayfish with extreme prejudice. (The creek is clean but the crayfish are bottom-feeders and probably not suitable for people to eat, Dagit says. The collected specimens have been frozen and donated to the Nature of Wildworks wildlife center as food for raccoons being rehabilitated there.)
The interns haven't been working alone. Starting in October, they mobilized a brigade of local schoolchildren from Calvary Christian School in Pacific Palisades and the Topanga Wildlife Youth Project to conduct weekly crayfish removals in a section of the creek. Their haul to date: more than 400 crayfish.
With the end of the school year, the program has gone on hiatus but Montgomery and Garcia say they hope to bring it back. Supervised removals are important because of Topanga Creek's delicate eco-system; the creek is home to several endangered or threatened species and fishing is prohibited, with special permission required for any crayfish removal, Dagit emphasizes.
Meanwhile, Montgomery and Garcia also are conducting scientific research comparing the cleaned-up area with an adjacent part of the creek where the crayfish continue to run wild. They've already created a scientific poster that they've presented at two conferences, and hope eventually to have their findings published by the Southern California Academy of Sciences.
Their internships, funded by a grant from the office of Supervisor Zev Yaroslavsky, are set to end in August. After that, it will be time for an all-too-common Southern California pastime—hoping for rain. Even a wet winter probably wouldn't be enough to completely eliminate the crayfish, which Dagit says are now established in most of the creeks in the Santa Monica Mountains. But it would help keep the invaders in check.
"What we're hoping is that we'll get some really good rains and that the population will get severely diminished," Dagit says. "And at that point we will mobilize people as best we can to do a really concerted removal."
For a peek at how it's done, check out the YouTube video below.
Posted 5/28/14
The Los Angeles River is getting a lot of love these days. The infamous concrete channel that's been likened to a scar on Los Angeles' civic psyche is now on the front burner to receive major improvements, and it's got a lot of political muscle in its corner.
On Tuesday, as Mayor Eric Garcetti led a contingent of city officials and activists to rally support in Washington D.C. for a massive project to restore the river's natural habitat and create more open space for the public, the L.A. County Board of Supervisors waded into the effort from a continent away.
Acting on a motion by Supervisor Gloria Molina, the Board voted 3-0 to back Alternative 20 of the Los Angeles River Ecosystem Restoration Feasibility Study, and to send a letter of support to federal agencies, President Barack Obama and the Los Angeles Congressional delegation. Supervisors Michael D. Antonovich and Don Knabe abstained from the vote. Alternative 20 is the most sweeping of four alternatives reviewed in the study—which was commissioned by the United States Army Corps of Engineers—and it comes with a $1 billion price tag that would be shared by the City of L.A. and the federal government.
Lewis MacAdams, president of Friends of the Los Angeles River, a non-profit group dedicated to restoring the waterway, said the Supervisors' move adds much-needed momentum to the cause.
"It makes it clear on every level that the people of Los Angeles want to see the restoration of the river to the largest possible scale," MacAdams said. "What you're seeing from the Board of Supervisors is a commitment to the restoration of the river from the area's most powerful political body."
When the Corps released its study on plans to restore 11 miles of the river between Griffith Park and downtown L.A. last month, the long-awaited report met with a lukewarm reception. Of the four alternatives analyzed, the Corps tentatively recommended Alternative 13, the second-least-extensive option. It would restore 588 acres of habitat and create four miles of new trails, three new restrooms and five wildlife viewing areas. But MacAdams said that, while those improvements are welcomed, the $453-million plan still wouldn't do L.A.'s waterway justice.
"The Corps wants to get out on the cheap, so they aren't even paying attention to their own study," MacAdams said. "Alternative 13 only restores minimal habitat."
But MacAdams is optimistic about getting something better. He said the growing list of supporters for a larger project now includes U.S. Senators Barbara Boxer and Dianne Feinstein, along with local members of the House of Representatives and Minority Leader Nancy Pelosi. But while Mayor Garcetti and other supporters are pushing for Alternative 20, the project faces an uphill battle in Congress, where budgetary constraints and partisan gridlock are the order of the day. On Tuesday, Feinstein acknowledged that it may be necessary to find a middle ground. (Another option in the feasibility study, Alternative 16, splits the difference between the two plans—including some, but not all, of the improvements for a price tag of $840 million.)
"Even if we don't get what we want and have to settle for [Alternative] 13 or 16, it begins to take back the river, and that's a journey that's going to take a long time," MacAdams said.
The L.A. River was encased in concrete after repeated flooding devastated parts of the city in the early part of the 20th century. The massive project stopped the flooding, but also destroyed miles of habitat and transformed the river into an eyesore, driving local residents from its banks and making it the butt of jokes on a national level.
In recent years, interest in revitalizing the river has surged. In 2010, the Environmental Protection Agency declared it a "navigable waterway," paving the way for enforcement of the Clean Water Act within its 834-square-mile watershed. And just this past summer, a kayaking pilot program experimented with literally navigating the river.
All three options under consideration would return 13 currently-underground streams to the surface, create new habitat and restore, at least partially, three adjacent properties—Taylor Yard, Piggyback Yard and Pollywog Parcel. Alternatives 16 and 20 also would add terracing along stretches of the riverbank, remove some of the concrete and create new wetlands.  However, only Alternative 20 would connect the river to L.A. State Historic Park, bring large-scale restoration to the river's confluence with the Verdugo Wash and widen part of the river bed.
For the county, Alternative 20 would be a big help in managing the watershed, said Mark Pestrella, an assistant director for the Department of Public Works. While the Army Corps is tasked with taking care of the stretch of river where the project would occur, the county Flood Control District manages other sections of the waterway. Bringing more people to the river would induce them to help take care of it and support its continued improvement, Pestrella said. The restoration project would join an ongoing evolution of the urban river that stretches back to the 1980s and includes the 1992 Los Angeles River Master Plan, the first study to take a comprehensive look at the entire length of the river to look for opportunities for recreation, restoration of habitat and creation of open space.
"We are midstream—the County sees this as the next step," Pestrella said. "We've done hundreds of millions of dollars in L.A. River Master Plan improvements already."
Because Alternative 20 adds new park space and improves connections to neighboring communities, county officials and other supporters say it would draw more people seeking recreation opportunities.
"Until people actually reach out and touch the environment and nature, they don't know what they don't have," Pestrella said. "Once people make an investment in it that improves their life, they just want more of it. We're funded by the public so we need that buying in—we need people to turn toward the river."
Posted 10/31/13
The Los Angeles River, it seems, is no place for horseplay.
For some two decades, equestrian advocates have pushed for a bridge over the river to connect the stables of Atwater Village to the trails of Griffith Park. The only alternative has been to ford the shallow river, a bit of tricky navigation even for skilled riders because of the slick, algae-covered rocks beneath the surface.
"The horses look like they're on roller skates, their legs going in all directions," says longtime rider Lynn Brown, a member of the City of Los Angeles' Equine Advisory Committee. "Almost no one who keeps horses on the Atwater side crosses the river. It's so dangerous."
But that's about to change. Real estate developer and philanthropist Morton La Kretz has ridden to the rescue, donating nearly $5 million for a strikingly-designed bridge that will allow equestrians, pedestrians and cyclists to cross the water north of Los Feliz Boulevard. Maybe just as important, officials say, the 300-foot-long La Kretz Crossing—with a towering support structure visible from the adjacent 1-5 Freeway—will signal to broader L.A. that the river's renaissance is for real.
The construction of the bridge, scheduled for completion by the end of next year, is being overseen by the non-profit Los Angeles River Revitalization Corp., created by the City of Los Angeles to bring together public and private donors to transform the river into one of the nation's premiere urban playgrounds. In fact, as part of the publicity surrounding La Kretz Crossing, the group this week announced the launch of Greenway 2020, an ambitious initiative to finish all 51 miles of the L.A. River bikeway by decade's end, complete with such amenities as picnic sites, eateries and bike shops.
In addition to La Kretz' donation, the bridge is being underwritten by contributions from the city and an allocation of more than $300,000 by Los Angeles County Supervisor Zev Yaroslavsky from voter-approved parks and open space funds.
Designed by the structural engineering firm of Buro Happold, the bridge will be divided with pedestrians and cyclists sharing one side and equestrians on the other. There'll be a rubberized surface so the horses don't slip and an eye-level fence to keep them from getting startled by passing cyclists. On the river's western bank, the bridge will intersect with the bikeway, where equestrians and hikers can access Griffith Park's trails through an existing tunnel under the freeway.
La Kretz was brought into the fold by renowned landscape architect Mia Lehrer, who says she got to know him while doing work for the environmental organization TreePeople; La Kretz's name adorns the group's educational Urban Watershed Garden in Coldwater Canyon. Lehrer says the elderly La Kretz, an avid cyclist, knew she was involved with the river's restoration and said: "Give me something I can get excited about—and it has to be done while I'm still around."
Soon, Lehrer says she and the river corporation were pitching the idea of a new bridge, the first that would be built in more than two decades and that would symbolically represent "a gateway" for the reimagined river. "He loved it," says Lehrer, whose firm is the project's landscape architect.
And La Kretz wasn't alone in his enthusiasm.
"When I heard it was going to be built I was like, 'Yay!" says Javier Del Angel, manager of The Paddock, an upscale, 200-horse stable along the river's eastern bank in Atwater. He says he and his horse have tumbled twice trying to negotiate the crossing. "It was very scary, and I've been riding my entire life."
Some years back, Del Angel says, a woman hit her head and was in a coma for three months. On another occasion, a horse had to be airlifted out of the river after slipping on the rocks. "His legs just gave out," Del Angel recalls, adding that a few weeks later, the animal had to be put down.
With La Kretz Crossing providing easy access to the park, Del Angel says he now sees not only safer passage but also new financial opportunities: "I'm thinking about opening a new horse rental business," he says.
Equestrian advocate Brown also calls plans for the new bridge "a huge deal." Like Del Angel, she too has stories of river mishaps, including one just last year while helping the L.A. River Revitalization Corp. with a video for its website. The organization said it wanted footage of horses in the river, so Brown recruited the president of the L.A. Equine Advisory Committee, who brought along an extra horse to lead through the water. Before the filming began, she says, the riderless horse stumbled and fell.
Frankly, Brown says, she was "utterly stunned but pleased" that she was even asked to participate in the video in the first place. She said that, for years, the safety and access concerns of the equestrian community seemed to go unheard.
"We thought it was a lost cause," she says. "I'm happy to be wrong."
Amid all the hoopla, however, one horseman offered some words of caution.
Tony Lomedico is a lieutenant with the Los Angeles Police Department's Mounted Unit, which is based along the river in Atwater Village. He acknowledged that the bridge will enhance safety for novice riders but expressed reservations about how some horses might react to being so close to cyclists, calling it a "new sensory experience" to which they'll have to get accustomed.
"We look forward to the bridge coming," Lomedico says, but "I think it's going to create some challenges."
Posted 7/25/13
The San Fernando Valley is about to get a little greener. Phase II of the Tujunga Wash Ecosystem Restoration project breaks ground next Wednesday. By the time it's completed, it will have restored ten acres of open space and created a sustainable stream system in the neighborhood of Valley Glen.
The $7 million project is a joint effort by the Los Angeles County Department of Public Works and the United States Army Corps of Engineers. The area to be restored is 3,000 feet long and 65 feet wide on each side of the wash. The finished section will link two existing "greenbelts"—Phase I of the project and an "original" greenway from the 1970s, forming 13,200 consecutive feet of revitalized land.
For the ecosystem, the project means nesting for migratory birds and a corridor for wildlife movement. Native vegetation will be installed, and the new stream will give local plants a chance to take root. The stream will replenish groundwater and act as a natural filter to urban runoff.
"The goal is to mimic Tujunga Wash in its natural state, but on a smaller scale," said Richard Gomez, project manager for Department of Public Works.
For humans, the project offers a place to walk, learn and explore. Ornamental gates will mark entry points, a 12-foot-wide path will give pedestrians and bicycles room to meander and educational signage will teach visitors about the local ecosystem and the project itself. Benches and rock wall seating will offer folks a place to rest amid the greenery. Existing chain-link fencing will be replaced with more aesthetically pleasing material.
A ceremonial groundbreaking will take place at 10 a.m. on Wednesday, February 22, at the intersection of Vanowen Street and Fulton Avenue. Speakers include Supervisor Zev Yaroslavsky, Colonel R. Mark Toy and Public Works Director Gail Farber. The public is invited to attend.
The Tujunga Wash feeds into the Los Angeles River in Studio City. In the first half of the 20th century, repeated flooding of the channel caused widespread property damage and even some deaths. As a result, in the 1950s the Army Corps of Engineers lined nine miles of it with concrete. This and other human activity had the unintended effect of eliminating the natural habitat of the waterway.
The longterm hope is revitalization of the entire length of the Tujunga Wash, said Gomez. When the current project is completed this fall, that goal will be 3,000 feet closer.
Posted 2/15/12
When the heavens open, as they did epically last month, the Los Angeles River becomes a roaring, churning testament to urban junk and waste.
With a collection area of nearly 900 square miles, it carries in its rain-swollen waters anything that can be chucked into flood-control channels or pushed down curbside catch basins—sofas, stereos, soccer balls, spray paint cans from taggers, whatever.
Then there's the trash, layers of plastic bags and Styrofoam mixed with tangled vegetation mowed down by fast moving waters on the river's channel bottom, where it's been allowed to grow wild again.
At the end of this mucky 51-mile journey to the sea is Jared Deck of Los Angeles County's Public Works Department. He oversees a multi-million dollar operation in Long Beach to corral all that junk in a boom unfurled across the river, just north of the Queen Mary and the harbor. Think of it as a goal line stand.
At first, it's hard not to be caught off guard by Deck's youthfulness in a bureaucracy in which some guys have been on the job longer than he's been alive. But then you learn that the 26-year-old is a Hermosa Beach surfer with a unique feel for the value of his job—and those of his colleagues in the Flood Maintenance Division—every time he paddles into the water.
"It's fulfilling," Deck says. "My playground is the outdoors so I enjoy doing anything I can to make it better."
In March, the stakes were historically high for him and the boom, which was first placed across the river 11 years ago as a pilot project. More dammed up debris—460 tons of it—was hauled out of the water than at any time before, tangible evidence of the severity of the March storms. The tonnage included full, uprooted trees. (See video below of the boom in action.)
To be sure, the county, along with its private and government partners, has worked hard to significantly reduce the amount of debris and pollutants flowing into the Los Angeles River from a watershed area of nine million people.
Among other things, county officials have installed 11,000 catch basin screens and other devices in unincorporated areas and have encouraged cities across the region to do the same. They've also launched ad campaigns to discourage dumping and educate the public about the relationship between the ocean and what they wash down their driveways.
Still, during the storm season between October and April, all bets are off. Those catch basin inserts, for example, are designed to unlock so greater loads can be accommodated and street flooding can be reduced.  And, with as much as 330 million gallons a day flowing through the river, there's little to do but wait for the debris to hit the boom.
Formerly called the Los Angeles River Trash and Debris Collection System, the boom is operated by a private contractor, Frey Environmental of Newport Beach. On Tuesday, the Board of Supervisors renewed Frey's contract for an annual sum of $795,000, with a 66-month maximum of about $4.4 million.
Since Frey first got the business in 2003, Dave Duncan has been there for the company as one its site operation managers. During the past eight years, he says he's seen it all, including the sad discovery of a 35-year-old woman's body. "I thought it was a mannequin," he says.
Duncan says he understands why there's so much old junk that ends up at the boom, where it's lifted into dumpsters by cranes with "grab buckets."
"If you're on the low end of things, making $8 an hour and you don't have money to go to the dump, what do you do? You throw it in the channel and hope for the best," he says.
The experience and continuity that Duncan has brought to the operation gave a sense of confidence to Deck, who, in 2008, was assigned by the county to work directly with the contractor. "Whenever I'm on the site, Dave is always there," says Deck, who was promoted last fall and now supervises the person who got his old job.
Deck grew up in central Maine—"in the middle of the woods"—and attended an engineering school in Worcester, Mass. Deck says he was quickly recruited by Los Angeles County before hiring freezes ended such efforts.
The recruiter, a Boston native, took him straight to the beach. "I was sold from there," says Deck, who had learned to surf while studying abroad in Puerto Rico. An avid skier, too, he now lives in a Hermosa Beach apartment.
In his short number of years here, Deck says he's had a great vantage point for seeing the success of efforts to keep the ocean cleaner by diverting runoff and trapping debris. "When I go surfing," he says, "the water quality is significantly better…It's great to see the system functioning and working."
The boom in action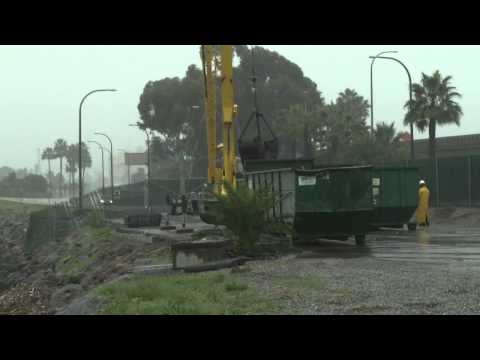 And here's something you can do: Join the Friends of the Los Angeles River's 22nd annual cleanup on Saturday, April 30th, from 9 a.m. to noon. The details are here.
Posted 3/31/11
Twice in recent summers, Malibu Creek's fledging population of endangered steelhead have been decimated, leaving the experts baffled and saddened.
In 2006, hundreds of the fish turned yellow and died after a heat wave that was accompanied by a foul-smelling black layer of rotting algae and bacteria in the stream bed. The ooze earned a nickname: Malibu Muck.
By early 2008, the population of juvenile steelhead managed to edge toward 3,000 again, giving biologists hope that the fish were making a strong comeback.
But last year, the die-offs returned with a vengeance. Steelhead, as well as the hardy carp, crayfish and others, died en masse. The Malibu Muck was back, too. This time, the baby steelhead didn't turn yellow but the population in the creek still plummeted from about 1,300 to just 200 young fish.
In the bad years, "everything was dying," says conservation biologist Rosi Dagit. "And we really had absolutely no clue why."
Last week, Dagit and other conservation biologists waded into the creek to look for answers, launching the most comprehensive water quality study ever undertaken in the crucial Santa Monica Mountains watershed.
Standing waist deep in Malibu Creek, Steve Williams and Kevin Jonz carefully slid a high-tech measuring device called a sonde inside a plastic housing and dipped it into the algae-green water. They anchored the two-foot cylinder to the creek bed with a steel fence post and then fastened the contraption to a willow thicket with a stout metal chain.
In all, five sondes were installed—four in Malibu Creek and one in nearby Topanga Creek. The devices will gather six vital measures of water quality every 30 minutes, around the clock, from April to October. The thousands of data points on water temperature, clarity, pH, algae levels, conductivity and oxygen levels will provide scientists with a full view of the changes in water quality over an entire season, from the high flows of spring to the slack low water of late summer and fall.
"The overarching question is what [water quality] factors are causing problems for the steelhead recovery," says Dagit, a senior conservation biologist for the Resource Conservation District of the Santa Monica Mountains and the study's lead scientist. "If you can find ways to give the fish a chance, then you can grow the population."
Southern steelhead are sea-going rainbow trout that, like their salmon cousins, return to spawn in the creeks and rivers of their birth. The red-stripped, olive-and-silver fish, which can grow to 35 inches or more, has been in decline since the 1950s and became endangered more than a decade ago.
Thousands of tiny steelhead are born in creeks from San Luis Obispo to Mexico, but few survive to migrate to the Pacific. Today, the total population of adult fish that made it into the ocean off Southern California is estimated at only 500. (A northern subspecies, also endangered, ranges from Central California to Canada.)
If the southern steelhead are to stage a comeback, they'll need to breed in the deep pools of streams like Malibu Creek, where the young must survive for a couple of years until they're old enough to head to sea.
Dagit and others believe that the Malibu Muck is at least partially responsible for the carnage. They hope the new study will provide clues to why the muck can be so bad in some years and not in others. At its worst, it's a carpet of black and white ooze a foot deep in places, coating the entire creek bed. Composed of rotting algae, bacteria and smelling like sulfur, the muck was "ubiquitous" at the time of the die-offs, Dagit says.
Whatever connects the muck to the fish kills, it's not as simple as the presence of a simple toxin in the water. An earlier chemical analysis of a muck sample turned up nothing that would account for the deaths, says conservation biologist Sandra Albers.
Today, steelhead can only travel two miles upstream, where a dam built in the 1920s blocks their path. So the scientists placed two sondes in the steelhead pools in the lowest parts of the creek. Two more will be placed in similar deep pools above the dam to see if conditions in the lower creek are significantly different. The sonde in Topanga Creek—a stream that also supports a small steelhead population—was placed there as a way to compare its healthier waters with those of Malibu Creek.
Albers and others will download the data every month via handheld devices that plug into the sondes, four of which are on loan from the Southern California Coastal Water Research Project and the other from the Las Virgenes Water District. Supervisor Zev Yaroslavsky's office has committed $8,000 to help cover the project's costs.
No one is expecting a simple fix. But the hope is that scientists can develop a new hypothesis by combining the data with ongoing studies of steelhead counts, algae populations and the proliferation of a tiny invasive pest called the New Zealand mud snail.
Still, the scientists believe they'll find useful information that will someday allow steelhead to grow up in Malibu Creek once again in significant numbers.
"There are a couple of pieces of the puzzle that we don't have a handle on," says fish biologist Carl Demetropoulos, an environmental consultant who volunteers his time to help with the study and fondly remembers catching small steelhead with his dad in Malibu and Topanga in the mid-1960s. "Steelhead are really adaptable and the best hope is that they are already able to come back."
Posted 4/6/10
For decades, the Tujunga Wash was little more than an eye-sore, a concrete flood-control channel snaking through Valley subdivisions, a tributary of the equally blighted Los Angeles River. Its one purpose: to move runoff to the ocean.
No more.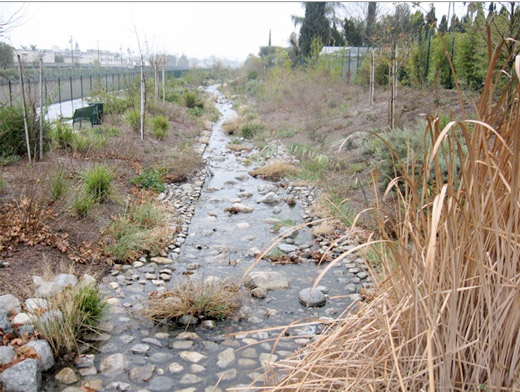 A stretch of the Tujunga Wash between Vanowen and Oxnard streets in the Third District has now become a model for urban environmentalists, complete with hundreds of new trees and plants, a bike path and a stream that allows rainwater to seep into the aquifer rather than run straight to the sea.
It is, in sum, a beautiful blend of conservation and recreation.
The effort has been so successful that a second greenway project for the Tujunga Wash is now being launched by the Army Corps of Engineers with nearly $4 million in stimulus funds from Washington. Los Angeles County is expected to contribute an additional $1.25 million.
Scheduled for completion in early 2011, it will run from Vanowen to Sherman Way—a 3,000-foot mirror-image extension of the earlier greenway and stream restoration project that Supervisor Yaroslavsky has praised as "a template for the rest of the Los Angeles River."
The greening of Tujunga Wash is, in fact, just one facet of an ambitious makeover
of the 51-mile-long L.A. River that was adopted in 1996 by the Board of Supervisors and involves a partnership between the city and county of Los Angeles, the U.S. Army Corps of Engineers and non-profit community groups that have raised money and supplied labor to replant sections of the river. The mission: to protect the river's flood capabilities while enhancing adjacent communities with parks, recreational opportunities, environmental restoration, economic development and civic pride.
Already, segments of the river—near Griffith Park, for example—have been transformed with popular bike paths and thick natural vegetation that has attracted migratory birds and other wildlife. Some plans call for the removal of concrete along certain sections of the river to restore it to an even more natural state.
Work on the latest segment of the Tujunga Wash, which feeds runoff from Hansen Dam to the L.A. River, is expected to begin in summer, 2010, and be finished in six months. According to the Army Corps of Engineers, the project will bring an additional 14 acres of open space and native habitat to the area, as well as extend the stream that was earlier created by the county to cleanse runoff and replenish the aquifer.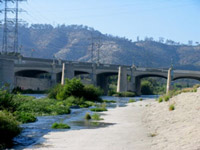 "Continuing the work on this project is important to helping restore degraded habitat along the channel, providing nesting opportunities for migratory birds and establishing a corridor for wildlife movements," said Col. Thomas H. Magness IV, commander of the corps' Los Angeles District.
The project received federal stimulus dollars, according to Army Corps of Engineer officials, because it's expected to create an estimated 32 jobs directly related to the work and an additional 55 jobs in industries supplying or supporting the construction, performing operations and maintenance and selling goods and services to the workers and their families.