In 1976, David Szymanski's grandparents took him on a Bicentennial road trip across the United States.
"I was eight," he remembers. "We stopped at the Badlands and Mt. Rushmore, Yellowstone, Hoover Dam, maybe the Grand Canyon. The landscapes of the Great Plains and the West were so different in so many ways from what I was used to. I remember coyotes yipping in Montana and Wyoming. It was spectacular. I was amazed that such places existed."
That amazement stayed with him—as a teenager in the Rust Belt, as a University of Michigan engineering student and, in his senior year of college, in a random-but-career-altering class on the literature of the American wilderness that "dredged up everything I'd felt at eight."  
Now Szymanski, a 44-year-old veteran of the National Park Service, is managing of one of Southern California's own spectacular places as the new superintendent of the Santa Monica Mountains National Recreation Area.
Szymanski was named after a 10-month search for a successor to the popular Woody Smeck, who was the public face of the nation's largest urban national park for more than a decade before moving on to a job as a deputy superintendent at Yosemite National Park.
It's a tough act to follow, acknowledges Szymanski, who was half-joking but completely awestruck when he referred to Smeck as "St. Woody" during a recent meet-and-greet with public officials. The 153,750-acre recreation area is a complex jurisdictional patchwork with players at every level of government as well as powerful community and nonprofit interests; as superintendent, Smeck worked on everything from preservation guidelines for sensitive wildlife habitat to firefighting policy to funding for thousands of acres of open space acquisitions.
"He's a great, great, great, great person," Symanski says.
Szymanski, however, brings his own set of credentials, including long experience in areas with complex issues requiring cooperative management. He has spent nearly two decades working with parks and protected areas, including 14 years in the National Park Service.
His most recent stint was as superintendent of the Lewis and Clark National Historic Park in the Pacific Northwest, but he also has served at Everglades National Park in Florida, Voyageurs National Park in Minnesota, on the Senate Subcommittee on National Parks as a congressional fellow and, in the 1990s, in Madagascar, working in that country's then-new national park system. 
"I've always enjoyed working in places where we've had to work with communities and partners to get things done," he says. "At Lewis and Clark, we included several state parks in our boundaries, and in the Everglades, it was often sugar farmers against fishing guys, and finding solutions among people that often otherwise wouldn't be in the same room. This is the best place in the country for those kinds of things."
On the job for all of three weeks, Szymanski has already hit the ground hiking, reaching out to stakeholders and learning the landscape even as he settles in with his wife, Elaine, and their 6- and 8-year-old sons, and tries to squeeze in the occasional bike ride (he's an avid cyclist.)
"I've hiked from Newbury Park up the Boney Mountain Trail. I've biked the Backbone Trail. I went to Solstice Canyon with the granddaughter of [grocery store magnate] Fred Roberts, who assembled so much of the canyon property and sold it into conservation. I met the neighbors at Zuma and Trancas Canyons, and went to a lot of smaller areas. Of course, I've spent time at the new Visitor Center at the King Gillette Ranch."
On a recent afternoon, he strolled along the Inspiration Loop Trail near the Visitors' Center, discussing ways to improve signage—a small-but-complex question, particularly for pet owners, since the 5-minute walk between the center and the unmarked trailhead traverses both National Park land (which allows dogs) and land overseen by the Mountains Restoration and Conservation Authority (where dogs are forbidden).
But the hike, led by NPS Park Guide Bethany McCormick, was also a lesson in the storied history of the property's Hollywood origins and its stints as a retreat for various cults and religions. And midway through, it was interrupted by a family of five mule deer, who paused on the sun-dappled trail and then bounded away.
"The mountains in a way say so much about Los Angeles, about the people who came here to seek their fortune and then assembled this megalopolis," says Szymanski. "But what's also impressive to me is knowing that in 1978, most of the area was not protected. It's really humbling in some ways because there are so many people here who are so active and with such a long list of accomplishment in this area. Our job, I think, is to continue that vision and to bring the resources we have at our disposal to that partnership."
And, he adds, to hold onto our sense of amazement.
"My wife went out for a walk last week near where we're staying, which is near Cheesboro and Palo Comado Canyons, and took a movie for our children, so they could hear the coyotes yipping in the background," he marvels. "She was less than a half-mile from a residential area, and yet you had the sounds of the wild."
Posted 10/30/12
Woody Smeck may speak softly, but he carries a big reputation.
With his wide-brimmed hat and low-key eloquence, Smeck has become the public face of the Santa Monica Mountains National Recreation Area and in many ways its staunchest guardian.
As superintendent of the country's largest urban national park for more than a decade, Smeck has presided over the recreation area as it added thousands of acres of new public open space. Working with partners from every level of government as well as those from community and non-profit groups, Smeck has helped shape everything from firefighting practices to educational outreach to preservation guidelines for sensitive wildlife habitats.
And he has been a tireless advocate for the 153,750-acre recreation area, appearing in this video and countless other forums to explain the complexity and importance of the vast natural preserve at the edge of the one of the world's largest cities.
Now he's getting ready to to make his mark on another national treasure. In April, he will become Yosemite National Park's new deputy superintendent. And those who've walked the path with him here are already feeling the loss.
"I'm so sad," said Kim Lamorie, president of the Las Virgenes Homeowners Federation, which honored Smeck with its "Citizen of the Year" award in May.
"There is only one Woody Smeck."
In honoring Smeck, Lamorie credited his "quiet but persuasive ability to finesse funding" of new open space acquisitions. Future generations, she said, will "revel in the wonder of the wild and wonderful resources you have preserved."
Geoffrey Given, who heads the advisory board for the Santa Monica Mountains campus of the educational program NatureBridge, said Smeck's impending departure is "a huge loss for Santa Monica [but] a huge gain for Yosemite."
"He has been an unbelievable advocate and supporter of what we do," Given said. "At all of our fundraising events, he'd show up in uniform with his flat-brimmed hat on." Smeck also put his money where his hat was, backing the organization's educational outreach with funds from his own agency's budget, Given said.
"I think he has made historic contributions to the National Recreation Area," added Joe Edmiston, who as executive director of the Santa Monica Mountains Conservancy has worked closely with Smeck for years. "His shoes will be very difficult to fill."
In announcing the appointment, Yosemite Superintendent Don Neubacher said Smeck "has the ideal background to helpYosemite achieve unequalled operational and innovative excellence."
Smeck said Neubacher first reached out to him about joining the Yosemite team about 1½ years ago. With his youngest daughter still in high school, the timing wasn't right initially. But now that she's graduating at the end of this school year, Smeck decided to accept the offer.
He'll head to Yosemite solo in early April and will live in park service housing until his wife, Karen, can join him, probably in July. They plan to buy a home in Mariposa.
The new position could put Smeck in line for greater executive responsibilities down the line—either at another national park or in Washington, D.C.
But he said he'll miss his Santa Monica Mountains stomping grounds, where he got his professional start in 1991 as a young landscape architect with degrees from Cal Poly Pomona. Smeck reached the recreation area's top job in 2001. He still marvels that he was able to get there without first transferring to other points around the National Parks system.
"People told me not to expect to stay [in one location] very long," said Smeck, now 49.
But stay he did—long enough to rub shoulders with influential people ranging from TV documentarian Ken Burns to President George W. Bush.
Bush's visit in 2003, he said, was a high point—a recognition of the power of collaborative work toward a common goal.
"It was a great opportunity to talk to him about how partnerships work, how cooperative management works, and he genuinely listened to what I had to say," Smeck said, recalling a 45-minute hike into the Rancho Sierra Vista area of Point Mugu State Park with Bush and a small group that included Supervisor Zev Yaroslavsky. "To get a presidential visit…was very uplifting for everyone."
He said he's also proud of completing a general management plan that "provides a unifying framework for preservation and stewardship" of parklands going forward. That plan, created with various state partners and the Santa Monica Mountains Conservancy, established a "cooperative vision" that has informed an array of other actions, including blueprints for fire management and land protection.
His career is a natural outgrowth of an outdoorsy childhood in California's Central Valley. "I spent my summers hiking and camping in the Sierra Nevada Mountains—especially Sequoia National Park," he said. "By the time I was 21, I had experienced most of the Sierra Nevada wilderness."
His first day on the job in the Santa Monica Mountains National Recreation Area started inauspiciously when he got lost trying to find the Rancho Sierra Vista trailhead.
"Back then, you had to drive through residential areas and gravel roads to find the obscure parking lot," he said. "One of my first assignments was to develop a new entry road and trailhead from Potrero Highway. Today, I'm happy to report that visitors have a very scenic entry drive and wonderful staging area with good signs, drinking water, and clean restrooms to start their park experience at Rancho Sierra Vista."
As he prepares to venture north to the world-renowned glories of Yosemite's Half Dome and Bridalveil Fall, he acknowledged that he'll miss the lesser-known but equally beloved natural treasures he'll be leaving behind in the Santa Monica Mountains.
"Oh wow, there are so many incredible places. If I had to pick one, the place that's the closest manifestation of heaven for me is the Old Boney Trail in Point Mugu State Park," he said. "It is just such a pristine, wild, raw, natural environment. It's as if you've been transported into another world. It is spectacular."
For Smeck's photo of the Old Boney Trail and some of his other favorite sights in the Santa Monica Mountains, check out a gallery of his photos below.
Posted 12/14/2011
He was little more than a teenager, strong and healthy, big for his age and not yet fully grown. What he was doing at night near the freeway is uncertain; those who knew him believe that like, most late adolescents, he was just looking for some turf that hadn't already been claimed by others, just trying to strike out on his own.
 In any case, the 15-month-old mountain lion known to the National Park Service as P-18 (the "P" stood for "Puma") somehow wandered onto the 405 Freeway just south of the Getty Center southbound onramp shortly after 4 a.m. Tuesday. His death was a hit-and-run.
 "He was found at 7:30 am when traffic started backing up and the CHP went in and found a dead lion with a GPS collar," says a stricken Christie Brigham, chief of planning, science and resource management for the Santa Monica National Recreation Area. Born last May in the Santa Monica Mountains and part of a decade-long national study, the lion's movements had been tracked since he was three weeks old.
A total of 21 mountain lions have been tracked since 2002 in the area, says Woody Smeck, park superintendent in the Santa Monica Mountains National Recreation Area.  Of those, Smeck says, only one is known to have successfully crossed a freeway. A lion known as P-12 crossed Highway 101 in 2009 into the Santa Monica Mountains near Liberty Canyon. He survived to father the cub who died this week.
Southern California's freeways may not invite their denizens to think much about nature, but wildlife crossings are a significant transportation issue in L.A.  Great swaths of natural habitat here are bisected by asphalt, which may impede the movement of coyotes, mountain lions, bobcats, raccoons and other native species but doesn't stop their instinct to travel in search of food and mates.
Wild animals require safe access to new territory so they don't inbreed and endanger their species' survival. Male mountain lions in particular tend to range widely, says Brigham, and previous tracking has shown them to range throughout the entirety of the Santa Monica Mountains, from Camarillo to the 405 Freeway.
P-18, she says, was one of four lions being tracked this summer; he had appeared to be slowly making his way east from his mother's home range in Malibu Creek State Park. Radio telemetry signals from his collar placed him near the Getty Center around 4 a.m. just south of an onramp
"We suspect there was another, untagged, male lion using that part of the moutain, which meant it wasn't an open territory for him as a young male," says Brigham. "We think he was trying to disperse out of the Santa Monicas in search of open space when he was hit."
Brigham says the area where P-18 died has been especially lethal to wildlife. "We found an un-collared, road-killed lion in the same area in 2008, " she says.
Moreover, she says, P-18's life might have been spared had he padded a mile or so further north to the Sepulveda Boulevard undercrossing. Motion-sensitive cameras, which have been set up there to track wildlife, have shown that, while it is not the ideal wildlife crossing—it was built for 4-wheeled vehicles, not 4-legged creatures—and rarely used by mountain lions, it is heavily used by other wildlife with relative safety.
Unbroken fencing might have funneled the lion to a safe passage, says Brigham. "But there was nothing to direct him to that area."
Wildlife issues have been under discussion with Caltrans and other agencies as part of the 405 freeway widening project, says Brigham, but money has been tight and fencing proposals have run up against right-of-way and setback issues.
"There are rules about how far the fence has to be from the roadway," she points out, "and not all of the land involved is Caltrans right-of-way."
Plans for improved lighting and wildlife access are in the works in a few spots including the Skirball Center Drive bridge area and the Bel Air Crest Road undercrossing, "but the ultimate solution is to put in wildlife crossings that will be effective and funnel animals to the appropriate place."
The 405 isn't the only freeway with a wildlife problem; Highways 101 and 118 also bisect important habitat. Nor is the issue just one of road-kill—a wild animal trapped on a freeway is lethal to motorists, too.
Caltrans has applied for a $10 million federal grant to build a wildlife tunnel in Agoura Hills under the 101 at Liberty Canyon Road, says Francis Appiah, an associate environmental planner and natural scientist at the state agency. But the grant has yet to be approved.
"Investing in connected pieces of parkland and constructing wildlife crossings along major freeways around Los Angeles is essential for long term mountain lion survival in the Santa Monica Mountains," says park superintendent Smeck.
Unless you happen to be a bird, chances are you've never seen the Santa Monica Mountains quite like this.
An intrepid team has embarked on an aerial project to capture the mountains' majesty in high-definition footage shot by a camera mounted on an XT-912 hang glider from Australia.
Eventually, the stunning aerials—recently edited into a soaring snippet posted on YouTube—will become a central visual attraction in a new visitors' center to be built starting in December at the Santa Monica Mountains National Recreation Area. The footage also will be provided to the Sierra Club, woven into an episode of the Trailmasters series shown on cable and public television and, under a plan still being developed, may become part of a new National Parks display at LAX.
For now, though, it's a work in progress, and, for the guys in the air, a thrill a minute.
Even a 5 mph breeze can buffet the low-flying 1,000-pound craft, which holds a pilot and a camera operator and not much else.
"It bounces you all around the place and it creates extreme turbulence. You could get blown right into the mountain," says Jeff Messenger, a licensed pilot whose company, Hi Def From Above, focuses on specialized camera work.
Messenger, along with his partner and cameraman Roger Mason, has taken the craft up a number of times in recent weeks, flying for hours to squeeze out precious minutes of usable footage.
Why do it? "Passion—and my love for open space," Messenger says. "Just to share it. I've never been so impressed with it as when I fly over it."
Toby Keeler, a media specialist who produces the Trailmasters series, recently pulled together the 86-second rough cut, which offers a stimulating demonstration of what the final product will look like. (Be sure to adjust the picture to 720p to get the full HD experience.) Keeler's efforts are being funded with grants from Supervisor Zev Yaroslavsky's office, the city of Calabasas and the Santa Monica Mountains Fund.
Then there are the other kinds of contributions—like the one from Keeler's award-winning composer neighbor, Randy Miller, who allowed him to use his "Heartland Images" as a soundtrack for the 90-second rough cut.
"While I'm not an avid hiker per se, I know the value this park has. I know the uniqueness. People don't realize this is the largest urban national park in America, and it's right in our backyard," Keeler says. "It's a point of view that no one ever sees."
That includes park aficionados like Woody Smeck, superintendent of the Santa Monica Mountains National Recreation Area.
"This is the first time that we've had this kind of aerial footage. It's just a spectacular point of view. You literally fly through canyons," Smeck says. "The image that I like the most is when he's sweeping down along the coastline…It's like coming down from heaven."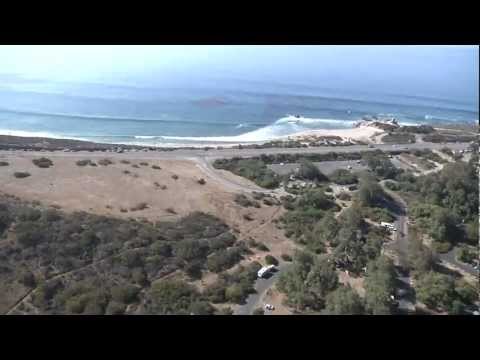 Posted 9/21/10
The National Parks Service has come to the rescue of the highly popular state parks in the Santa Monica Mountains, providing a grant of $939,169 to avoid cutbacks that would have been likely because of Sacramento's budget shortfall.
The state has seven parks in the Santa Monica Mountains area—including Leo Carrillo, Topanga, Will Rogers, Point Dume and Malibu Lagoon—with campgrounds at Leo Carrillo, Malibu Creek, Point Mugu and Thornhill Broom. About 3 to 4 million people visit each year.
"As a result of this grant, the public should experience no reduction in services or operating hours when they visit the many beautiful state parks and beaches within the national recreation area," Woody Smeck, superintendent of the Santa Monica Mountains National Recreation Area, said in an e-mail to State Senator Fran Pavley and Assembly Member Julia Brownley.
"We're just pleased that we can bridge the gap," Smeck said later in an interview. "This grant is really an investment in maintaining a good national-state park system here in Southern California."
The grant, made to the Angeles District of California State Parks, was issued Friday.
Without the infusion of funds, state parks officials would have had to reduce services, said Ron Schafer, district superintendent of the Angeles District, California State Parks. "It could have been significant," he said pointing to a laundry list of "usual suspects"—ranging from bathroom closures at campgrounds to reduced hours and seasonal closings.
Supervisor Zev Yaroslavsky, whose district includes the Santa Monica Mountains, said he was thrilled by the level of intergovernmental cooperation that clearly is accruing to the public's benefit.
"Protecting and operating these precious parklands is a cooperative venture, and no level of government can do it alone," the supervisor said. "In light of the dire fiscal situation in Sacramento, I'm very grateful that Washington was able and willing to step in and assist us this year for the benefit of the public."
Assembly member Brownley agreed.
"The NPS stepping up in this very significant way is just one more example of the extraordinary working partnerships we have among the various park agencies. I don't ever want to see a single one of our precious state parks or beaches closed to the public. We are the stewards of these unique resources and have an obligation to protect and preserve them, not to shutter them. I can't say enough to express my gratitude to the NPS for this wonderful gift."
The national parks service is not only acting to benefit users of the state parks—there's also an element of self-interest, Smeck said.
Because the state and national parks are "interlocking," any notion of closing the state parks for, say, one day a week or for an entire month at a stretch, would have presented difficulties for his staff, Smeck said. Boundaries are porous, and fire safety would have been an issue in an unattended park. In addition, the burden of any search and rescues would have fallen upon the national parks service.
"As the nearest emergency responder and provider of park programs," Smeck said in his e-mail, "the National Park Service would have directly felt the consequence of state park service reductions.