Gushing over L.A.'s new civic park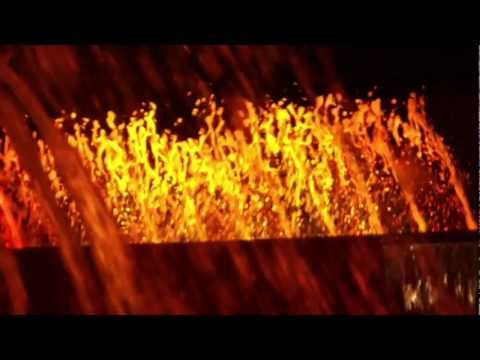 Never heard of Arthur J. Will? That's about to change.
For decades, a fountain tucked between the Hall of Administration and the courthouse has carried Will's name, honoring his work in creating the Civic Center Mall during the late 1950s while serving as the county's chief administrative officer.
But the truth is that, outside of a couple cameo appearances in the movies "Pretty Woman" and "500 Days of Summer," the Arthur J. Will Memorial Fountain has remained mostly anonymous, its street-level view completely obscured by two concrete parking-lot ramps on Grand Avenue.
Now, the 1960s-era fountain is being spectacularly re-imagined for a starring role in a $56-million transformation of Will's long overlooked public space, which stretches from the Music Center to City Hall. The parking ramps have been demolished and moved, and the fountain has been restored under the watchful eye of the Los Angeles Conservancy.
In recent days, the fountain has been tested for the first time since it was turned off in July, 2010. Last Monday, a nighttime run-through of the fountain's stunning new kaleidoscopic hues brought smiles of satisfaction—and relief—to the team responsible for the $5.2 million makeover. (For a front row seat at the testing, take a look at our video, linked above.)
"This is a huge milestone to have this be so successful and so enticing," said project manager Dawn McDivitt of the county's Chief Executive Office. "We can't wait to show it off to the community."
The fountain, which is now also more energy efficient, will remain closed to the public until late summer or early fall, when all four blocks of the 12-acre park project are completed. Currently called Civic Park, it's designed to create a sense of place in a downtown on the rise, with a performance lawn, a grand event lawn, ADA-accessible walkways, a dog run and a community terrace area showcasing plants from around the world.
But it's the fountain—with its new prominence and engaging interactive features—that promises to be one of the park's biggest draws.
Karen Adhikari of Fluidity Design Consultants, which oversaw the fountain's restoration and expansion, said the Los Angeles Conservancy required that the existing structure be kept largely intact, most notably the space-age-styled granite and concrete "bowl." What's more, material used in the restoration, she said, needed to precisely replicate the original look.
But the conservancy also signed-off on a dramatic modernization: a ¼-inch-deep "membrane pool" with 79 interactive jets and a dark granite bottom that produces crisp reflections of the fountain and surrounding buildings, including the Dorothy Chandler Pavilion. Designers of the 6,200-square-foot pool would like to see visitors of all ages wade in.
"We hope that people will find this a peaceful place, an active place, a place that is constantly changing and never repetitive," said Adhikari, whose company worked in tandem with the construction firm of Outside the Lines.
For months, wood fences along Grand Avenue concealed from public view the fountain's sparkling renovation. But last December, that didn't deter one particularly determined passerby from trying to get a peek. He had reason to be more curious than most. His father was the fountain's namesake, Arthur J. Will.
Robert Will said he was driving along Grand Avenue with friends after a downtown lunch when he saw the fences and pulled to the curb.
"I got out, jumped up and peered over the fences," said the 80-year-old Will, a retired Washington D.C. lobbyist. That's when he says he was approached by security officers, who ordered him to move along.
"I want to look at the fountain," Will said he responded. "They were very polite but they still said, 'Get out of there!' "
Two weeks ago, pursuing a more conventional route, Will wrote a letter to the county's current chief executive officer, William T Fujioka, saying that he and his family would like to attend the dedication of the fountain and the new park later this year—a request the CEO's office says it will be thrilled to honor.
"My dad was so proud of the mall," said Will. "It was his baby."
Posted 5/1/12