The Orange Line: Moving forward
In late 2005, on the day the Orange Line made its maiden trip along Canoga Avenue, the Los Angeles Times gave the instantly popular busway a nickname: "The Napkin Line."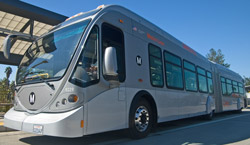 As the paper correctly noted in its rave review, the line's route through the San Fernando Valley had been sketched on a napkin by Supervisor Zev Yaroslavsky as he and other elected officials and transit planners flew back from a 1999 fact-finding mission in Curitiba, Brazil. There, they'd seen the stunning efficiency of a high-occupancy bus system that used dedicated roadways and timed traffic signals to keep the buses moving swiftly through intersections—at a fraction of the cost of burrowing a subway tunnel.
Today, the Orange Line is mirroring that success. In fact, the system has proved such a hit with commuters that an extension of the 14-mile route is now in the works, with completion scheduled for 2012. This new 4-mile segment will link commuters with the Chatsworth Metrolink station.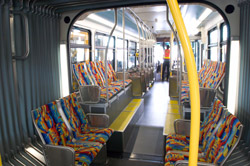 The Orange Line—named in tribute to the Valley's early agricultural roots—currently runs from Warner Center to North Hollywood, where riders can catch the Red Line subway to Downtown L.A. or points elsewhere. To speed up the operation, riders purchase fares before boarding, as they do for the region's subways.
So far, according to Metropolitan Transportation Authority figures, the Orange Line's 35 super-sized buses have transported nearly 33 million passengers, an average of more than 7 million a year—far exceeding the agency's initial conservative predictions. As gas prices soared in the summer of 2008, the Orange Line scorched one ridership record after another.
Transit planners also were determined to create a commuting experience along the old Union Pacific rights-of-way that addressed the concerns and interests of the broader community. Among other things, the MTA:
• Planted 5,000 trees and 800,000 environmentally-friendly native plants along the route.
• Built 8 miles of new bike and pedestrian paths that are fully lit, with racks and lockers at all stations.
• Commissioned 15 California artists to design artwork unique to each station.
• Erected more than 5 miles of sound walls with an anti-graffiti design.
Supervisor Yaroslavsky says he had few doubts that the scribbles on his airline napkin would one day materialize into one of the nation's great transit achievements.
"When I met with Curitiba Mayor Jaime Lerner, the genius behind his city's busways, I asked him to what did he attribute the success of his transit system. His response is etched in my memory: 'Have the courage to try simple solutions.'
"The Orange Line is a simple idea that has proven to be the most successful busway in the United States. It was a transit solution that was staring us in the face, and all we needed was the courage to build it."