With crowds, speeches, and even a rare appearance by its normally reclusive creator, Michael Heizer's "Levitated Mass" finally opened on Sunday at the Los Angeles County Museum of Art.
"This is a monument to our own time and our own place and our own aspirations as people," exulted LACMA Director Michael Govan, noting the months of public spectacle that accompanied the execution of the immense sculpture. "It does make the impossible possible."
Surrounded by a geometric field of decomposed rock, the artwork—a 680,000-pound hunk of Riverside granite positioned atop a 456-foot-long concrete trench—basked in the L.A. sunshine. Birds perched on it. Palms swayed beside it. At one end, a Unocal billboard and a 99 Cent Store sign bedecked its horizon. Awestruck visitors gawked at the rock's scale, called friends from beneath it and pretended to hoist it, creating, in the words of Curbed LA, an instant tradition of  "boulder holding."
Privately, Govan called it "an amazing, contemplative oasis in the middle of the busy metropolis."
Heizer, dressed in a cowboy hat, cowboy boots and shades, had his own take as the crowd mobbed the Nevada earth artist, begging for autographs: "It isn't a golf course, that's for sure."
Heizer conceived the sculpture 43 years ago, but didn't complete it until he visited a granite quarry in Riverside County decades later and found the boulder that is its centerpiece. (Or, as Heizer joked in an interview on Sunday, "It found me.")
"The Rock," as it came to be known, captured Southern California's imagination as it moved to LACMA from Jurupa Valley, inspiring block parties, traffic jams and marriage proposals. The 105-mile journey along surface streets was a feat not only of engineering but also of bureaucratic ingenuity, as the teardrop-shaped megalith traveled a circuitous route through four counties and 22 cities.
Maria Chong-Castillo, a public works deputy for Los Angeles County Supervisor Zev Yaroslavsky, was singled out during the dedication for troubleshooting the dozens of permits needed for The Rock's move. (Terry Semel, co-chair of the LACMA Board of Trustees, told the audience that when the project was first proposed, "we thought this is either the best idea ever or it's a total screw-up!")
The project—which had been scheduled to open last November—was repeatedly delayed by demands for bonds from municipalities who feared their infrastructures couldn't handle the load.
Those fears didn't materialize. Still, as a thank-you, LACMA offered free admission to its galleries from now until July 1 to residents of the ZIP codes through which the rock passed during its 11-day journey (click here for the list).
Among the out-of-town dignitaries was Mayor Laura Roughton of Jurupa Valley, where the boulder was blasted out of the side of a mountain. "I love it!" said Roughton. "I went back to the quarry after The Rock left, and it seemed kind of lonely without it, but it's probably getting the respect now that it deserves."
Heizer was bemused at the hoopla. Born in California but living now in the Nevada desert, he was absent during The Rock's highly publicized journey, arriving in L.A. only afterward to oversee the assembly of the piece. "We knew it was going to attract some attention," he said, but to him it had more to do with the culture of Los Angeles than with his vision.
"L.A. is an automobile culture, and what you saw was just the biggest automobile in town goin' down the road," Heizer joked. "That's why you got all excited. You just love cars."
On Sunday, however, it was all about the art, as Govan, Semel, Yaroslavsky, Heizer and Los Angeles Mayor Antonio Villaraigosa cut a bright red ribbon (with some help from Govan's young daughter), and a throng of hundreds mobbed the artwork.
Earlier public response had been a mix of admiration and shock at the piece's privately financed price tag, a reported $10 million. As the boulder made its stately progress, clad in shiny white plastic shrink-wrap, some predicted it would be a masterpiece while others compared it to a 340-ton frozen turkey.
"People have asked me over the last few months how you justify dedicating these resources and this much space to something like this," Yaroslavsky said to the crowd on Sunday. "But this going to become, along with Disney Hall and 'Urban Light' and the Hollywood Bowl, among the iconic views and visions of our region. . . Everyone will see this work in a different way."
On Sunday, the crowd was mostly impressed, and most in attendance agreed that photos and TV coverage didn't do justice to the impressive scale of the piece.
"It's like a meteor!" gasped 5-year-old Adam Davis, clutching a book on Lego Star Wars Legos. "It's like a meteor that fell down into the earth!"
"It's gonna add a lot to the community," agreed his father, Darren Davis, who lives near the museum. "It's just amazing to have such a persistent piece of history for everyone to enjoy."
Photo gallery below by Los Angeles County photographer Martin Zamora.
Posted 6/24/12
As Michael Heizer's "Levitated Mass" prepares for its big reveal this weekend, the Los Angeles County Museum of Art has been scrambling. The grass keeps wearing out. The parking garages keep filling.
"We've had to do extra maintenance," says LACMA Director Michael Govan, "because of all the people hanging out on the grounds, picnicking."
Make no mistake, Govan is not complaining. In fact, he says, he would celebrate if he weren't so busy because for the first time in six years, museum attendance broke the 1 million mark this fiscal year, soaring to an estimated 1.3 million visitors.
LACMA's attendance as the fiscal year approaches its June 30 finish is still a far cry from that of such institutions as The Louvre and the Metropolitan Museum of Art in New York, where the crowds exceeded 9 million and 6 million, respectively.  Locally, it's still less than half the turnout that the Dodgers get in a season (although it's twice this year's Lakers attendance).
Still, only 51 museums in the world broke the 1 million mark last year, according to The Art Newspaper, a cultural publication that does an annual attendance survey. "It's a rarefied zone," Govan notes.
More importantly, this year's crowds didn't just stem from the fleeting boost of a single, blockbuster exhibition. Rather, they built from a steady stream of smart, high profile shows in new permanent spaces such as the Resnick Pavilion and the Broad Contemporary Art Museum. (Click here for a 10-year look at LACMA attendance.)
"LACMA has broken a million before, with shows like the [1999] Van Gogh exhibition and 'Tutankhamun Returns' [in 2005]," notes Govan. "But those shows were one-time occurrences, and different in the sense that after they left, the attendance went right back to where it was."
That default attendance when Govan arrived in 2006 from New York's Dia Art Foundation was between 600,000 and 650,000. Two years after he took the helm, however, the Broad Contemporary opened, as did Chris Burden's now-iconic entry piece, "Urban Light." Attendance shot up by more than 200,000, maintaining its new base even as the Resnick Pavilion was planned and constructed. In 2010, when the Resnick opened, the figures rose by another 100,000.
Since then, the upward trajectory has continued. During the last 12 months, visitors have flocked not only to works by popular artist and director Tim Burton, but also to less mainstream shows such LACMA's exhibition on California design.
The surrealist show, "In Wonderland", was a big draw in recent months, and Burden's room-sized miniature freeway, "Metropolis II", has had more than 200,000 visitors alone since it opened in January.
And, Govan adds, visitors are sticking around.
"One of the things I'm especially proud of is that the average stay six years ago was 45 minutes, and now it's two hours and 45 minutes," he says. "So when you multiply that by the attendance, the use of the museum has increased extraordinarily."
Attendance, of course, isn't everything. "There's the quality of the program," Govan says. "There's how you change art history. There's the idea of showing Los Angeles artists who had distinguished careers and deserve more recognition. That's part of our role, too."
Challenges also persist—among them the difficulty of attracting tourists. Despite Los Angeles' buzz as a dynamic arts center, out-of-towners are so often overwhelmed by the sprawl that they give up on the parks, cathedrals and museums that would be natural tourist destinations in other big cities.
The Tim Burton show—mobbed by 5,200 visitors a day when it debuted at New York's Museum of Modern Art—only got about 2,700 visitors a day when it moved to LACMA. And art museums in Chicago, Boston and even San Francisco routinely outdo our attendance figures.
Govan says some of the difference is logistical: San Francisco's renovated de Young Museum, for instance, sits next door to a wildly popular science museum. But a big part of it, Govan says, is tourist traffic.
"When I got here only 11% of our audience was a tourist audience—by far the lowest number of any museum of our kind in the world. Usually, you get a 50-50 mix, or at least 60-40."
LACMA's tourist component has risen since to about 21% of attendance, he says, and should continue to improve. A planned subway stop at the museum should help, as should the eventual addition next door of a big, new movie museum being jointly developed by the Academy of Motion Picture Arts and Sciences and LACMA.
"But you'll never see the giant numbers until L.A.'s tourism numbers rise," Govan says.
In the meantime, Govan expects the museum's solid, incremental gains to continue, and not only with must-see installations such as "Levitated Mass," which opens Sunday at 11 a.m.
Visitors on that day will not only be able to finally experience "The Rock," but also check out the many other delights at LACMA—the "Urban Light" forest of street lamps, the tiny whizzing cars of "Metropolis II," the rare and beautiful Latin American codices and treasures at "Children of the Plumed Serpent: The Legacy of Quetzalcoatl in Ancient Mexico," which is part of Govan's mission to take L.A.'s understanding of Latin American art to the next level.  ("Everybody knows about ancient Egypt," says Govan, "and not enough people know about ancient Mexico.")
Next year's docket will include a retrospective on the work of L.A. sculptor Ken Price that will go to the Met in New York after it leaves here and a show built around eight of Caravaggio's sumptuous, crowd-pleasing paintings.
The goal, Govan says, is to get to 1.8 million visitors by the end of this decade.
But, he adds, "What I'm after is not one thing that's everything. It's a collection of things that create critical mass—the friendly entrance, the outdoor space, the restaurant and bar, the jazz and film programs."
As for the beleaguered grass, he laughs: "These are good problems to have."
Posted 6/21/12
Southern California's favorite 340-ton megalith will be unveiled to the public on June 24 at a dedication ceremony for "Levitated Mass," the Michael Heizer art installation in which the now-famous boulder dubbed "The Rock" will perch atop a massive, walk-through slot on the campus of the Los Angeles County Museum of Art.
At the top of the invitation list to see this new heavyweight attraction on the international art scene are the folks whose communities the boulder passed through on its slow-mo journey from a Riverside County quarry to LACMA. All residents who live in the 61 ZIP codes traversed by The Rock are being offered free admission to the museum and its grounds during the week of June 24 through July 1. Proof of residency, such as a driver's license, will be required. Click here to see if your ZIP code's on the list.
It's intended as a thank you to the communities—from Jurupa Valley to Rowland Heights to Long Beach to Los Angeles—that played a part in The Rock's epic voyage. The trip turned into a festive happening all along the route, with thousands turning out to marvel and, perhaps, plan their first-ever visit to LACMA to behold the boulder once it's on permanent display. Our video showcases The Rock's voyage into Southern California history.
As The Rock meets its public for the first time in its new home next month, the museum will also open an exhibition called "Michael Heizer: Actual Size," a collection of large-scale photographs and projections of other works by the reclusive Nevada artist who created the installation. Heizer lived for a time on the LACMA grounds while "Levitated Mass" was being assembled.
"We live in a world that's technological and primordial simultaneously," Heizer said in a statement released by LACMA as part of its announcement. "I guess the idea is to make art that reflects this premise."
Posted 5/21/12
Terry Bell was a 34-year-old homemaker with two children in Westwood when art changed her life.
"It was the early '60s, and I had a good friend who did fundraising for the museum," she remembers. "One day she said, 'You're a disgrace! You're a college graduate and you don't know anything about painting or sculpture.' "
At her friend's insistence, she signed up for a then-new program to train docents at the Los Angeles Museum of History, Science and Art in Exposition Park, which at the time housed the county's art collection. Now, 50 years later, she is an avid art collector, a Los Angeles County Museum of Art life trustee and a founding member of one of the largest docent organizations in the nation. She has exposed thousands of visitors to museum treasures, recorded acoustic guides for major exhibitions and worked against the censorship of controversial and important artworks.
And she traces it all to that decision a half-century ago to volunteer as a LACMA docent..
"It is just so rewarding," says Bell, who this week is among the hundreds of honorees celebrating the golden anniversary of LACMA's Docent Council. "Not only in terms of yourself, but in what you can give back to the community."
Some 521 men and women belong to the Docent Council, a volunteer juggernaut whose members have led more than 2 million children and adults through the museum since it became an official entity in 1962.
More than a million Southern California schoolchildren have been led on field trips by LACMA docents; so have generations of adult visitors to the museum's many exhibitions.
"We are definitely in the front lines," says Judith Tuch, who chairs the council. "We provide the personal connection between the students and adults who come to the museum and the art they see. For many, it's the first time they've ever been in a museum. For some, unfortunately, it may be the only time they'll be in a museum.
"We encourage them to understand that this is a county museum, and that this is their place."
The council grew from a small group of volunteers who explained art during the 1950s at what is now the Natural History Museum. Though visitors at that Exposition Park site mostly came to see dinosaurs and fossils, the county also had quietly been amassing fine art since the 1920s. Members of the Junior League, the Volunteer League of the San Fernando Valley and other local organizations offered informal tours of the gifts from such early donors as William Preston Harrison, Paul Rodman Mabury and William Randolph Hearst.
In 1961, amid planning for a separate Los Angeles County Museum of Art on Wilshire Boulevard, the groups joined forces to create a formal docent training program. Fifty-three women took the special classes in art history and elementary education. 
After a provisional year, the Docent Council was officially formed, chaired by Glenn Cooper, a Junior Leaguer who later became a well-known arts patron in Sun Valley. Their goal: To train 200 docents in time for the official opening of LACMA in 1965.
The docents were key almost from the moment the new museum opened. In 1966, for instance, they rose to defend Edward Kienholz's still-controversial "Back Seat Dodge '38." The piece, which depicts a beer-soaked encounter in a parked car, is so sexually charged that members of the then-Board of Supervisors denounced it as pornographic.
"I had met Ed Kienholz and talked to him about the exhibition, and I thought it was terrific," Bell remembers. 
Eventually, the Supervisors decided the piece could be seen, "but the door to the car couldn't be open unless a docent was there to explain it," Bell says, recalling that at one point, she had to tour a group of clergy that included her own rabbi—whom she had to shush with the admonition that she listened to him every week, so he should do her the courtesy of returning the favor. 
The piece—like later Kienholz exhibitions that Bell also guided—became a sensation and visitors mobbed the museum. "Five or six of us guided tours every 20 minutes," Bell remembers, "almost around the clock."
Since then, the council has grown along with the county in diversity and sophistication. Some 25 members are men and docents of all races, creeds, ages and backgrounds lead tours in multiple languages.
Now overseen by the museum's Education Department, the group has a training regimen that includes extensive coursework in art history and touring techniques and a 2-year provisional period. No member can tour adults without spending at least 5 years doing school tours.
"We have several attorneys in the current [provisional] class," says Patsy Palmer, a child psychotherapist and longtime LACMA volunteer who now trains incoming docents. "One man in my group is a retired doctor." All the new docents, she says, "are highly qualified and uniquely skilled."
"We've come so far," agrees Bell, who says she can't wait to see how visitors respond to "Levitated Mass" and other upcoming attractions. "We're really in a marvelous place."
Posted 5/2/12
When we last left The Rock, it was rolling into the Los Angeles County Museum of Art at the end of an internationally televised odyssey. This week, behind cloaked chain-link fences, the two-story-high boulder crossed a much less public milestone: Under the direction of Nevada earth artist Michael Heizer, it was lowered, inch by inch, onto a long concrete trench behind the museum, taking its place in "Levitated Mass," Heizer's new masterpiece.
The roar that accompanied Tuesday's "touchdown," as crewmembers called it, was not of applause but of heavy equipment. As LACMA Director Michael Govan watched from the sidelines, dust gathering on his dark blue dress suit, the 67-year-old Heizer issued orders from inside the trench, squinting behind sunglasses in a yellow hardhat. Overhead, the boulder dangled from a massive red gantry crane.
"Whoa, whoa, whoa!" the crew cautioned as the 340-ton boulder met the 456-foot-long slot and settled into position. A layer of high-density grout squeezed out across the steel plates that secure the rock to its cradle. Finally—after a flurry of testing, adjusting and grout-scraping—the artist, renowned for precision, relaxed slightly.
"It landed perfect," he declared to Govan, observing that the rock hit the grout "exactly as it was intended." Then, not missing a beat, Heizer turned to one of the seven engineers on the project to discuss the myriad ways in which the sculpture is being seismically secured.
The artwork's assembly this week offered a rare glimpse of the famously publicity-averse artist with the creation that generated a Southern California spectacle earlier this year. For 11 nights in February and March, the granite boulder was a local celebrity as it moved 105 miles on surface streets from a Jurupa Valley quarry to the backyard at LACMA.
While Southern California cheered, partied, made marriage proposals and otherwise marveled at the raw material for Heizer's project, the artist himself kept his distance—no TV interviews, no press calls, not even a cameo appearance at the boulder's March 10 grand entrance at LACMA.
Late last month, however, Heizer quietly arrived from his remote compound in the Nevada desert, where he has been working for the past four decades on "City," a vast, Stonehenge-scaled project near Area 51, the secret military installation.
Since then, he's been living with his wife and dog in an Airstream trailer on the LACMA campus, just a stone's throw from his artwork, which will allow visitors to walk down the trench and under the boulder, positioned 15 feet overhead. Heizer's expected to return to Nevada later this week
On Monday, as TV crews arrived to witness the artwork's progress at LACMA's invitation, Heizer remained in the Airstream. But on Tuesday, with the media gone, the artist emerged up close and personal with his creation, fine-tuning its support system, measuring its angles, even lying down flat on the bare earth to peer into its crevices to make sure no telltale signs of connection were showing.
"You've got to get this dug out," he called to one worker, pointing to a smudge of grout along the rock's edge. "Can we get a piece of plywood?" he called to another. "If I had something that was taking a load here, it would be better," he instructed an engineer, studying the rock's corner. "If you can make that load-bearing, I think that's the 3,500-year plan that we're looking for."
Between conferences, Heizer chatted with Govan about Keith Heyer Meldahl's "Rough Hewn Land," a book on the geology of the West that Govan had given to the artist. (Among other things, the book argues that, when it comes to the Big One, the San Andreas fault is far less dangerous than the faults near Salt Lake City.)
Mostly, however, the artist was all business. As for Govan, his reaction to the rock's successful placement was "incredible relief."
"There was so much discussion of the stress up to this point," said the museum director. "Would it land correctly? They had been shaving the bottom of the rock, they'd been talking about the grout. Then, as Mike said, it pretty much landed perfectly, just as he'd planned—but after a month of intense discussion."
Seismic engineering will continue this week as the rock is permanently affixed to the steel shelves. Besides the high-density grout, the rock is being drilled with nine holes that will be injected with high-strength epoxy, followed by the insertion of 1-inch diameter pins that will keep it from lifting or rolling in an earthquake. Then five steel "wedges" will be placed around the rock to prevent side-to-side sliding.
After that, Govan says, "the rest is cosmetics," as a desert-scape is installed around the sculpture. The museum director hopes to open "Levitated Mass" to the public in mid-June.
Posted 4/19/12
You knew the spectacle would be big when the "Levitated Mass" rock set out for LACMA. But how big? Glad you asked:
Height of boulder: 21 feet, 6 inches
Weight of the boulder: 340 tons
Weight of the largest granite slab in the Great Pyramid: 80 tons
Length of the transport: 299 feet
Length of a football field: 300 feet
Width of the transport: 27 feet
Width of a lane on the 405: 12 feet
Nights in transit: 11
Miles traveled: 105
Top speed: 5 mph
Total gallons of diesel fuel burned: 2,250
Gallons of diesel fuel to move one mile: 5
Distance per gallon: 1,056 feet
Miles walked beside the boulder by Emmert crewman Joe Schofield: 75
Blistered toes on Joe Schoefield's feet: 3
Counties traversed: 4
Cities traversed: 22
Crowd estimate at Jurupa Valley launch point: 300
Crowd estimate at Long Beach's "Rock-a-pa-looza" Rock Party: 20,000
Crowd estimate along Wilshire Boulevard between midnight and 4:30 a.m. for the Rock's arrival at LACMA: 1,000+
Cups of coffee sold after midnight at the Patina coffee cart outside LACMA: 175
Emmert International heavy haul crew: 25
Cable lines moved just by Time Warner Cable crews: 90+
Traffic signals moved or removed and replaced on one night between Long Beach and Carson: 41 poles and 12 signal arms
Port-A-Potties in the convoy: 1. Times cleaned in 11 nights: 5
Marriage proposals next to the Rock: 1
Attempts to crawl under the Rock by members of the public: 1
Free bookmarks handed out at Rock stops by LACMA: 110,000
Consecutive hours deejays played songs with words "rock" or "stone" in the title: 5
Tacos sold at Patricia's Mexican Restaurant across from the Rock on Wednesday: 4,000. Tacos sold at Patricia's on a normal weekday: 300
Number of cars towed on Wilshire to make way for the Rock's arrival at LACMA: 10
Fine and towing fees for parking in the temporary no parking zone: $354.50
Towed Hondas: 6
Towed Mercedeses: 1
Time The Rock was delayed because of illegally parked cars: 1 hour, 33 minutes
Complaints to towing firms from car owners who didn't see temporary "No Parking" signs on Wilshire: 2
Hits on LACMA's Google map of the transport route: 1,043,800
New followers to LACMA's Twitter account: About 4,000
Views on LACMA's YouTube video of the transport: 26,888+
Axles on the transporter: 44
Tires on the transporter: 176
Flat tires during the trip: 0
Pre-emptive tire changes: 1
Time spent turning the first corner in Jurupa Valley: 1 hour, 8 minutes
Steepest grade in Chino Hills: 10%
Tightest clearance: 6 inches in Long Beach
Lost palm trees: 2
Estimated transportation cost, including utility line clearance: $4.5 million
Estimated total cost of the project: $10 million
Estimated cost to taxpayers: $0
Time it took to build and load the Rock's transport: 2 months
Estimated time to dismantle it: 5-6 days
Length of the concrete Slot that is the other half of "Levitated Mass": 456 feet
Depth of The Slot foundation: 3 feet
Cubic yards of concrete in the slot: 2,000
Height The Rock will hover above viewers when "Levitated Mass" is finished: 15 feet
Sources: LACMA, Caltrans, Emmert International, Office of Long Beach City Councilman James Johnson, Ramon Vasquez III, Time Warner Cable, Los Angeles Signal Construction Co., Patricia's Mexican Restaurant, Patina Catering, S&J Wilshire Tow, Joe Schofield, Buro Happold, Matt Construction
It was a journey for the ages—all ages: a slow-moving procession through 22 cities and four counties, beginning in a Riverside County quarry on Tuesday, February 28, and culminating at the Los Angeles County Museum of Art on Saturday, March 10. Along the way, thousands of spectators turned out to marvel at artist Michael Heizer's 340-ton boulder and its massive custom-made transport. At the museum, the rock will be attached to a concrete channel, creating the illusion that it's floating, or levitating, overhead. "Levitated Mass" is expected to open as a permanent LACMA installation in late spring or early summer. Here's our video account of one of the most memorable moments in L.A.'s art history.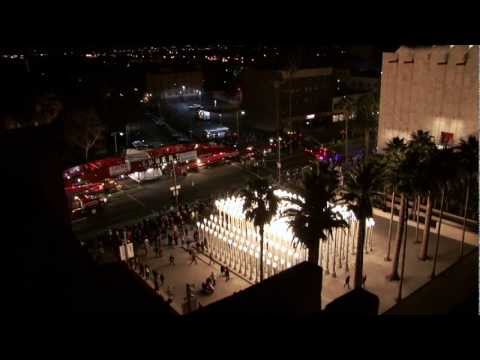 As crowds cheered and a loudspeaker blared Queen's "We Will Rock You," the Rock rolled into the Los Angeles County Museum of Art just before dawn on Saturday morning, riding down Wilshire Boulevard in its massive red transport like a 340-ton beauty in the Rose Parade.
"Fantastic," said LACMA Director Michael Govan, unable to stop smiling as the focal point of "Levitated Mass," the museum's latest permanent installation, paused in front of the museum.
"Yahoo!" applauded Govan's 7-year-old daughter, who was dressed in a pink coat and hoisted high on his shoulders.
"Magnificent!" breathed Alexandra Thum, a West Hollywood product designer who had worked her way through the crowd to get a curbside view. "It's just so great to be here and see all the community together." Around them, several hundred onlookers cried "Bravo! Bravo!" under the antique street lamps of another iconic LACMA masterpiece, Chris Burden's "Urban Light."
The reception capped an 11-day trip across 22 cities and four counties for the boulder, a hunk of granite the size of a 2-story teardrop that, in the weeks ahead, will be affixed atop a concrete channel, creating the illusion that it is levitating overhead. The work by Nevada earth artist Michael Heizer is scheduled to open in spring or early summer. (The famously reclusive artist was not on hand Saturday, but is expected to be in Los Angeles for the piece's assembly.)
Although The Rock, as it came to be known, is only one component in the installation, it instantly became a media event itself because of the novelty and engineering involved in its move from its Jurupa Valley quarry in Riverside County.
Progressing at a stately 5 miles per hour and parked by day to minimize traffic disruptions, it inspired a marriage proposal in Glen Avon and a citywide block party in Long Beach, gawker's block in Diamond Bar and pajama-clad sightseers near Expositon Park. In Rowland Heights, an accountant came home to discover it outside his bedroom window. So many people posed next to it for photos that, perhaps inevitably, it became an Internet meme for a digital moment.
While many thrilled at the spectacle, some decried its estimated $10-million expense, which has been covered entirely by private donors. "I think they should have spent $10 million on art programs instead of this rock," said Patrick Taylor, a security guard and father of two who lives near Exposition Park.
Overall, however, museum officials were pleasantly surprised at the public reaction, which included a wave of fresh awareness for LACMA.
"When this started, I thought it would be much more controversial," said Govan. "You know, 'Is it art? Is it not art?' But people mostly have just been fascinated and appreciative. And so many have learned about the museum from this experience."
On Friday night—or, more accurately, Saturday morning—that appreciation was out in full, only-in-L.A. glory as thousands pulled all-nighters for the last leg of The Rock's journey, up Western Avenue and along Wilshire Boulevard's famed Miracle Mile.
Onlookers on foot and on bicycle snapped photos and videos and narrated the boulder's slow-speed progress on hundreds of cell phones. Dogs barked. Tourists jumped out of buses and cabs to investigate the commotion.
A tall man dressed as Jesus and a shorter person dressed as a unicorn posed for pictures. Comedians worked the crowd. ("Have you seen my dog? It's a ROCK-weiler!") Further back in the crowd, actress Sharon Lawrence ("NYPD Blue," "Desperate Housewives") kept a low profile with her physician husband.
When the boulder slowed to make the painstaking turn in front of the Wiltern Theatre, a man waving an American flag ran out into the intersection, whooping. When the transporter was forced to stop, waiting for a tow-truck to remove a Dodge illegally parked in front of a karaoke bar on Wilshire, a dazed-looking young woman leaped into the street and either fell or tried to crawl underneath it. Shaken crewmembers escorted her back to the sidewalk and issued her a stern warning.
But for the most part, the mood was festive and communal, and the boulder's movers—many of whom had walked alongside the megalith for most of the 105-mile route—were ready to celebrate by 4:30 a.m., when the procession paused in front of "Urban Light" for its final paparazzi moment.
"I got blisters on three of my toes," laughed crewman Joe Schofield of Emmert International, who said on Saturday that he had been on foot, watching the rock, for more than 75 miles of the journey. Separate work crews ran ahead at each stop to clear the path of utility lines and landscaping. Workers from Time Warner Cable said they had moved lines in some 90 locations.
"Everybody has been clapping and cheering and connecting," said Emmert General Manager Mark Albrecht, noting that, aside from that one incident with the young woman and a couple of mauled palm trees, the delivery was almost miraculously free of hitches. Around him, hard-hatted workers humbly ducked their heads as Los Angeles County Supervisor Zev Yaroslavsky and Los Angeles City Councilman Tom LaBonge thanked them.
Meanwhile, a crush of spectators rushed to touch the shrink-wrapped megalith with their fingertips until the transporter was put into gear again for the last yards of its journey, finally disappearing behind a gate on Fairfax Avenue and Sixth Street at 5:03 a.m.
Fresh coffee? Belgian waffles? A 25-foot-long portable restroom? Does this town know how to greet an art world heavyweight or what?
If you're planning on braving the elements to watch The Rock arrive at its new home at the Los Angeles County Museum of Art sometime in the wee hours of Saturday morning, here are a few pointers to make the experience unforgettable (in a good way.)
Check in before you set out. Updates on The Rock's progress will be posted on Twitter and on LACMA's Gawker's Guide blog. If you'd like to catch it at an earlier point in its pilgrimage, The Rock is expected to start moving from Figueroa and Florence around 10 p.m. Friday. It will travel north on Figueroa, west on West Adams and north on Western, turning west onto Wilshire toward the museum, which is located at 5905 Wilshire Boulevard. It's expected to arrive at LACMA sometime between 2 a.m. and 6 a.m. Saturday. Be aware that Wilshire Boulevard will be closed from the area west of the Broad Contemporary Art Museum (BCAM) on the LACMA campus to Fairfax. And Fairfax will be closed from Wilshire to Sixth.
Dress warmly. OK, it's not Minnesota but overnight temperatures in the 50s can still feel chilly when you're waiting around for the arrival of a 340-ton megalith. The museum and grounds will be closed, so bundle up and feel free to bring along blankets, a lawn chair and maybe some board games to while away the wait. Think Rose Parade, minus the floats and New Year's revelers.
Know where to park.  The LACMA lot at Wilshire and Spaulding will be open and free. If that's filled up, you can park at the Petersen Automotive Museum for $10.  Please note that LACMA's Sixth Street parking garage will not be open to the public.
Better yet, ride your bike or walk there. What an earth-friendly way to greet one of our planet's more spectacular chunks.
Follow the foodies. Just because you're having breakfast outdoors with a rock doesn't mean you have to settle for trail mix. Some of the popular food trucks that regularly feed crowds outside LACMA will be on hand starting at 11 p.m. Friday in the Wilshire and Ogden lot at LACMA's southwest corner. They include No Tomatoes and Waffles de Liege. A Patina coffee cart will be stationed near Chris Burden's Urban Light in front of the museum, also starting at 11 p.m. Friday. Don't count on grabbing a drink and a bite at the Stark Bar, though; it will be closing at 11 p.m. Friday.
Find the facilities. Portable restrooms will available in a 25-foot-long trailer that will be parked in the same Wilshire and Ogden lot as the food trucks.
Look for the people with red bags. These LACMA volunteers will be out and about to answer questions and hand out literature about The Rock, which when installed will become the star of Michael Heizer's "Levitated Mass."
Don't forget your camera. Sometime after its arrival, The Rock will be posing for a "photo op" with Urban Light, in front of the museum on Wilshire Boulevard. Send us your favorite shot and get ready to tell your grandchildren you were there to see L.A. art history in the making.
Read LACMA's own list of how-tos for experiencing The Rock's final leg here.
Posted 3/8/12